Holistic private network solutions – AT&T
AT&T delivers a holistic private cellular network strategy, providing solutions using licensed and shared spectrum at the customer premises. Get in-depth details on AT&T's private network offerings and sample use cases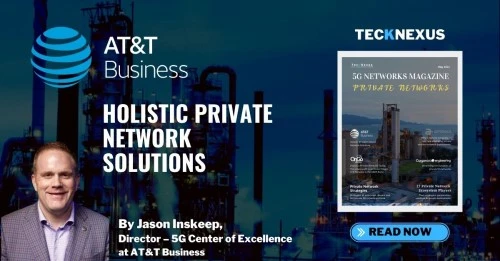 AT&T works directly with customers on current and future use cases
AT&T delivers a holistic private cellular network strategy, providing solutions using licensed and shared spectrum at the customer premises. AT&T's private cellular strategy in tandem with 5G is built for businesses to deliver enterprise-grade mobility services whether inside or outside of the business's virtual four walls. AT&T offers multiple private cellular solutions to enable their private cellular suite of services utilizing LTE and 5G models, including CBRS (Citizens Broadband Radio Service) LTE spectrum-based networks to a wide range of enterprises, including manufacturing, public safety, refineries, warehouses, and transportation. 
Strategic Alliances
AT&T has multiple partners for its CBRS LTE private cellular offering to include Ericsson and Nokia. They have also partnered with system integrators (e.g., Accenture for Phillips 66 private network deployment) and cloud service providers to include Microsoft, Google, IBM, Accenture. Additionally, in partnership with Samsung, AT&T has launched the 5G Innovation Zone at Samsung Austin Semiconductor to demonstrate 5G's impact on the Smart Factory, including use cases for Robotics, Industrial IoT, and Mixed Reality. AT&T's direct work MxD has shown the market how new technologies can be applied. AT&T also teamed with Purdue College of Engineering to create one of the first 5G research and development testbeds in the U.S.
---
AT&T Solutions
Private Cellular Networks
AT&T Private Cellular Networks provides a self-contained network that combines operational control of LAN with the security and performance of cellular networks. It includes dedicated on-site small cells, private SIMs, & a network management portal to control traffic, devices & access KPIs.
Private Cellular Networks – Portable
AT&T Private Cellular Networks – Events provides a temporary dedicated network delivering 5G speeds using mmWave spectrum for localized high bandwidth needs.
Multi-access Edge Computing
AT&T MEC is a managed on-premises cellular solution that combines operation control of LAN with the benefits of the AT&T macro network, delivering enhanced privacy, control, lower latency, and more predictable performance utilizing existing licensed spectrum and existing SIMs.  
---
Sample Ongoing Deployments
DoD announced $600 Million for 5G Experimentation & Testing at five U.S. military test sites. Projects include piloting 5G-enabled augmented/virtual reality for mission planning and training, testing 5G-enabled Smart Warehouses, and evaluating 5G technologies to enhance distributed command and control.
For the AR/VR-based training project at Joint Base Lewis-McChord (JBLM), Washington site, AT&T is developing a system to use 5G connectivity with present training devices jointly with GBL System Corp. Oceus Networks, and Booz-Allen Hamilton.

For the Smart Warehousing project at Naval Base San Diego (NBSD), California, AT&T is deploying within a short span of 9 months, a network based on commercially available equipment to support 4G and 5G utilizing cellular spectrum in both the sub-6 GHz and millimeter wave bands.

For the Distributed Command and Control project at Nellis Air Force Base, Nevada, AT&T will initially provide a fixed then mobile 5G environment. This will provide high capacity & low latency to support the connectivity requirements associated with the mobile combined air operations centers. The 5G network will be used to disaggregate and mobilize the existing C2 architectures in an agile combat employment scenario.
AT&T and Accenture are partnering with Phillips 66 to deploy a private cellular network at one of the refinery plants based in Belle Chasse, Louisiana. The objective of the private network is to address the coverage gaps from the existing public cellular network and lay the foundation for Industrial Internet of Things (IIoT) and 5G-based low latency applications.
The cellular network consists of cell sites and core network servers to provide reliable connectivity to the Phillips 66 refinery. AT&T provides the necessary engineering for the private cellular network. AT&T's multi-access edge compute solution will also provide Phillips 66 with the control, performance, and security, in addition to the flexibility to expand to their other locations in the future.
AT&T is deploying a private 5G network at one of Whirlpool's factories in Ohio. Currently, the driverless vehicles inside the factory depend on WiFi connectivity to navigate. Though the factory has full WiFi coverage, only half of it is used due to its construction. There is metal everywhere, conveyor belts are running on ceilings, and existing old equipment creates its own radio-frequency voice. All this results in WiFi interference, degrading the signal for the driverless vehicles – creating traffic jams, slowing down the factory production, and having a cascading impact on the delivery timeline. To fix the WiFi interference issue, the factory will need to be remodeled.
Hence, Whirlpool is moving from WiFi connectivity to 5G connectivity for the driverless vehicle to move them reliably from one end of the factory to another.
AT&T is deploying a private 5G network for MxD, a non-profit research institute that brings hundreds of partners together in partnership with the department of defense to advance the future of the U.S. manufacturing industry. 
MxD private network uses two radios — one with mmWave 5G and one with sub-6 5G that connects to AT&T's central network core. The control plane is offsite, and the user plane is managed by multi-access edge cloud computing (MEC) servers at the MxD facility. The solution uses a licensed cellular spectrum (currently using sub6 spectrum on LTE and combined where applicable with 5G mmWave spectrum or sub6 spectrum) to deliver low latency, high-bandwidth solution, providing more control and flexibility at the edge.
AT&T will demonstrate how manufacturers can use video intelligence to monitor conveyor belt speed and production accuracy, monitor older equipment temperatures and maintenance and monitor inventory levels and location.
Read the complete article in the 5G Magazine
All
2022 Predictions
2023 Predictions
5G Edge
5G for Manufacturing
5G for Transportation
5G Towers
Featured
Foundation
Guest
Leaders
Open RAN | 2021
Open RAN | 2022
Private Networks | 2021
Private Networks | 2022
Security
Telco Cloud
All
2022 Predictions
2023 Predictions
5G Edge
5G for Manufacturing
5G for Transportation
5G Towers
Featured
Foundation
Guest
Leaders
Open RAN | 2021
Open RAN | 2022
Private Networks | 2021
Private Networks | 2022
Security
Telco Cloud
All
Aerospace and Defense
Agriculture
Commerce
Datacenter
Energy & Utilities
Financials
HealthCare
Industrial Automation
Innovation Hub
Manufacturing
Media and Broadcast
Mining
Ports
Public sector
Retail
Smart Cities
Sports
Transportation
University Campus
All
Aerospace and Defense
Agriculture
Commerce
Datacenter
Energy & Utilities
Financials
HealthCare
Industrial Automation
Innovation Hub
Manufacturing
Media and Broadcast
Mining
Ports
Public sector
Retail
Smart Cities
Sports
Transportation
University Campus