5G and Edge Computing from Keysight Lens
This article covers multi-access edge computing, related testing challenges, Keysight's KORA (Keysight Open RAN Architect) Portfolio, and the process of transitioning from Lab to Live production environment.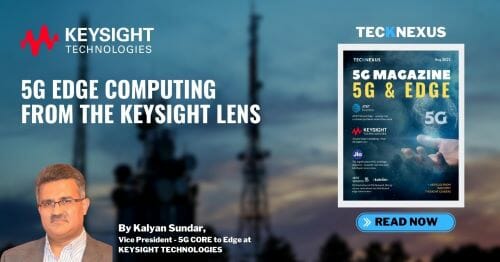 With the advent of R16 standards, work on the other pillars of 5G – URLLC & massive IoT are underway. To take full advantage of new mobile communications standards, mobile operators are moving from an evolved packet core (EPC) to 5GC. By combining 5G NR deployment in standalone (SA) mode with a virtualized network architecture, operators can efficiently use network slicing to allocate resources for different use cases.
As a result, mobile operators need to manage a massive number of devices and connections in support of service level agreements (SLAs) for both consumers and the industry.
Multi-access Edge Computing (MEC)
MEC – Multi-access Edge Computing is a central piece in moving these areas forward. MEC delivers cloud computing capabilities and an IT service environment at the edge of the cellular network. It allows compute resources to be deployed closer to the edge of the network, in effect "transporting" cloud capabilities to the edge to overcome latency and network reliability issues.
MEC offloads client-compute demand given the higher available communication bandwidth from the client. It allows for lower demand on the network for predictable compute demands by placing them closer to the client. It can also be used to optimize the network function itself, because of its large distributed compute capability. MEC also allows for greater flexibility in applications. For example, applications can be architected to run in the client, on the edge, in the cloud, or split across multiple domains to optimize performance, power consumption, and other aspects.
MEC Testing Challenges
Ensuring the right amount of hardware and software services are available to do the required tasks.

Slices are instantiated & operate correctly to meet the slated SLAs – Slice assurance.

How secure is the Edge? Given the MEC is a minimized data center co-hosting applications, vulnerabilities increase, thereby requiring constant tests against attacks & ensuring a strong perimeter defense.

Private MEC SLA assurance – Dedicated Edge computing infrastructure and radio access network (RAN) that are installed on-premise to provide ultra-low latency to enterprises.

Public MEC carrier gateway/hyperscaler performance & latency assurance – Public MC brings the cloud computing resources to the edge of a cellular network, closer to where businesses and developers can use them.
Keysight's KORA (Keysight Open RAN Architect) Portfolio
Keysight's KORA (Keysight Open RAN Architect) Portfolio ensures that MEC can be verified under different environments for different use-cases & handle the slated testing challenges just discussed. KORA is an integrated solution portfolio that enables a connected ecosystem to consistently validate the performance of the network from the edge of the RAN to the cloud.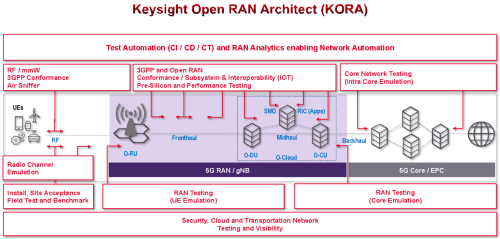 The ability to run this is in a virtual & cloud environment

– hosted as VMs on top of VMWare or OpenShift and instantiated dynamically as CNFs (Docker or Kubernetes) on AWS Outposts or Google Anthos or Microsoft Azure Edge.

With MEC, lines are blurred between RAN & Core,

which is a sweet spot for Edge to Core/Cloud portfolio from KORA. As an example – hosting UPF & Cu-UP at the edge in addition to DU & other RAN components.

Testing software simulates complex real-world subscriber models

to enable mobile operators and network equipment manufacturers (NEMs) to qualify the performance and reliability of voice and data transferred from RAN over 5GC networks. Carrier-grade quality of service (QoS) benefits consumers accessing data-intensive applications, such as video and gaming, and businesses that rely on critical IoT applications in sectors such as automotive, manufacturing, energy, and utilities.

KORA lends itself well to ensuring tests

run in lab & live environments.

KORA tests can be fully automated

and work seamlessly with customer CI/CD pipelines with well-defined APIs.

With

Security & Observability becoming very important

at the Edge, KORA extends to handle these aspects as well.
Transitioning from Lab to Live
With O-RAN, the need to validate functionality disaggregated across multiple entities, onboarding new components, and continuously integrating newer code (CI/CD) is very real. Testcases built for lab setups need to be able to transition to a live/active environment. Constant validation of SLAs – measuring latency, QoE, and slated level of service at an End to End level as well as a slice level is necessary.

5G networks require advanced capabilities to be verified including elastic scaling of network nodes, network slicing, and multi-access edge computing (MEC) when simulating the behavior of millions of UEs. To verify that wireless applications, using either 4G or 5G technology, fulfill the expectations of end-users, Keysight's KORA allows mobile operators and network equipment manufacturers (NEMs) to validate both 5G and legacy radio access networks (RANs), as well as the 5GC.
Read the complete article in the 5G Magazine
All
2022 Predictions
2023 Predictions
5G Edge
5G for Manufacturing
5G for Transportation
5G Monetization
5G Towers
Featured
Foundation
Guest
Leaders
Open RAN | 2021
Open RAN | 2022
Private Networks | 2021
Private Networks | 2022
Security
Tech and Connectivity
Telco Cloud
All
2022 Predictions
2023 Predictions
5G Edge
5G for Manufacturing
5G for Transportation
5G Monetization
5G Towers
Featured
Foundation
Guest
Leaders
Open RAN | 2021
Open RAN | 2022
Private Networks | 2021
Private Networks | 2022
Security
Tech and Connectivity
Telco Cloud
All
Aerospace and Defense
Agriculture
Commerce
Datacenter
Education
Energy & Utilities
Financials
HealthCare
Industrial Automation
Innovation Hub
Manufacturing
Media and Broadcast
Mining
Ports
Public sector
Retail
Smart Cities
Sports
Transportation
All
Aerospace and Defense
Agriculture
Commerce
Datacenter
Education
Energy & Utilities
Financials
HealthCare
Industrial Automation
Innovation Hub
Manufacturing
Media and Broadcast
Mining
Ports
Public sector
Retail
Smart Cities
Sports
Transportation